Sailing ⛵️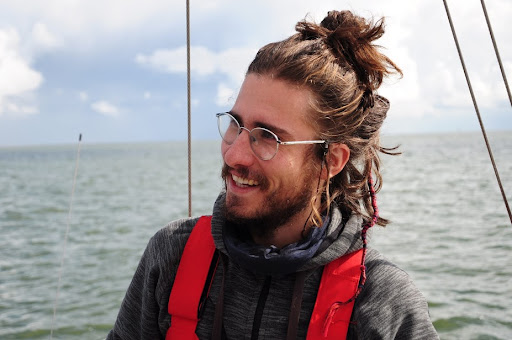 Michał Korzonek
contact: michalroots@proton.me
currently based in Pico island, Azores
updatw
Current Goal
**Getting ready for studying in Enkhuizer Zeevaartschool **
Looking to crew in Spring / Summer 2023.
Prototyping Melting Man - a regenerative burn at sea.
Long Term Goal
My long term goal is to sail between regenerative projects and host experiences at sea. The journey starts with connecting my forest home in Pico (Azores) and Traditional Dream Factory in Mainland Portugal. What's next?
I am looking to expand my offshore sailing experience, particularly in passage planning, navigation, difficult weather conditions and yacht maintenance.
About 
Sailing is my medicine, and it's when I feel the most alive. You might find me singing shanties madly in a pouring rain, and then to delight you with a delicious dessert when you least expect it.
Professionally, I create events (gatherings, workshops, performances, courses…) and write stories. Some are decent. I seem to be very good at bringing people together, holding space and catalysing the energy in the room to co-create magic together. Here's where I focus at the moment.
I'm high vibe, positive, and proactive. I love heart-to-heart conversations and give memorable hugs (bold statement, I know). I like to travel light - less than 80l.
Languages: Polish (native), English (fluent), Portuguese (intermediate), French (intermediate)
Nationality: Polish (EU passport)
Dream: co-creating a beautiful world where all beings can thrive.
Diet: no animals for me, but I don't mind you eating yours.
Non-smoker
Also:
Very fit and agile (and happy to climb masts)
Resilient
Easy going, happy vibe, relaxed mindset
Quick learner
Responds well in challenging situations
Good cook (specialising in: vegetarian, vegan and desserts that will delight you)
In other words, good catch 💜
Sailing Experience & Certificates
Log: 2231 NM / 533h at sea + Regattas


Yacht Skipper Certificate (Jachtowy Sternik Morski via Polish Yachting Association)
RYA SRC Certificate 
STCW'95 Certificate
Certificate of Proficiency in Security Awareness
Sailing Experience:
Regattas Crew on traditional whaling yachts (Azores, 2021)
First Mate (North Sea; 2017)
Crew (Atlantic, Baltic Sea, Mediterranean Sea; 2010-2017) 
Skipper (Masurian Lake District - inshore; 2007-2017)
Crew (Masurian Lake District - inshore; 2005-2007)
Profiles: