Storytelling & Documentation Magic
I tell heartfelt stories documenting beautiful dreams becoming a reality.
---
My Offer
Creating a monthly / moonly newsletter for regenerative projects, organisations and communities. I will narrate your story in a consistent rhythm, serving to build trust and connection with your audience, and to create documentation for your organisation (€700-€1500/m, token payments possible)
Creating hanbooks / documentation for your organisation. I will bring clarity and focus helping your audience / community navigate through your processes and tools (€1000-€5000, token payments possible).
🌳
Portfolio
(News)letters 💌
Documentation Projects 📖
More documentation in the archive.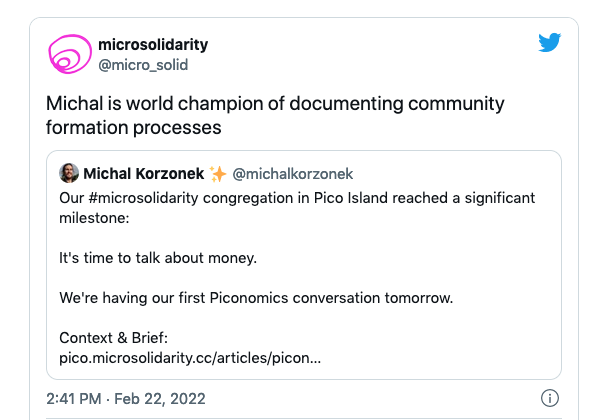 Video Journaling 📹
One Second A Day - Every day I record at least one second of video. I then compile it into a Moonly video - a digital journal showing some images and vibe of my life in that period.
Michal & Silvia / Honeyboom (inactive) - Youtube channel exploring tools and inspiration to help you build vibrant relationships
Anton on Holidays (fun travel documentary) - Back in the summer of 2012 I traveled over 11000 km with a shark called Anton.
Articles, Stories & Letters 📝
Here's the archive with my articles, stories and letters.
Support My Work 🚀
I have a Patreon account and it'd make a huge difference to have you supporting my work – so I can keep open sourcing and transitioning towards the circular gift economy ✨.
See you around, Beautiful Person 💜